Last Updated on: September 16, 2022
Suppose you have ever seen a tree filled with several neatly spaced holes drilled into its sides. Then you have indeed encountered one of the mischiefs peculiar to the unique species of birds known as woodpeckers.
As you may know…
Woodpeckers have several of its species widely distributed in North America. Thus, if you live in the great state of Pennsylvania, I am sure you wonder if your state has these bird species. Or if you have seen one and just never realized it.
In this article, I will discuss the various species and include pictures of woodpeckers in Pennsylvania to satisfy your curiosity.
Seven Woodpeckers of Pennsylvania
Woodpeckers are omnivorous birds belonging to the family Picidae. Members of this family are widely distributed and differ in size. With their characteristic drumming behavior and zygodactyl legs, woodpeckers differ from most birds.
Let's dive into the types of woodpeckers in Pennsylvania.
1. Red Headed Woodpecker
Red Headed Woodpeckers are classified as medium-sized woodpeckers with their striking white rump patch and inner wing patches visible during flight and while perched.
Color Pattern
The adult woodpeckers have their entire head, neck, and throat colored bright red, as the name implies. This differs from the younger ones, who have an overall brown color to their head, neck, and throat.
During their first winter molt, the younger birds develop this characteristic red color.
Behavioral Pattern
During contact calls, the red-headed woodpeckers make a weak wheezy 'queerp' or 'queeah' sound.
With their low, harsh 'clug' sound, you can quickly identify the red-headed woodpeckers in flight. Their beaks produce a short and slow drum sound
Size and Shape
Both males and females are of the same size.
Both Sexes
Length: 7.5-9.1 in (19-23 cm)
Weight: 2.0-3.2 oz (56-91 g)
Wingspan: 16.5 in (42 cm)
Habitat
Red-Headed Woodpeckers are commonly found in pine savannas, tree rows in agricultural areas, open forests, and other wetlands.
2. Northern Flicker
Northern Flicker is a pretty large woodpecker in Pennsylvania. They have rounded heads, long flared tails, and slightly down curved bills.
Color Pattern
The adult Northern flicker has a brownish overall with a white rump patch visible in flight. On closer inspection, the brown plumage is richly patterned with black spots, crescents, and bars.
Behavioral Pattern
Northern Flickers are mainly on the ground. They prefer to perch themselves upright on horizontal branches rather than leaning on a trunk whenever they are in trees.
Heavy flap movements combined with glides enable them to fly in up-and-down paths.
Size and Shape
Northern Flickers are relatively half the size of hairy woodpeckers. The males and females are the same in size.
Both Sexes
Length: 11.0-12.2 in (28-31 cm)
Weight: 3.9-5.6 oz (110-160 g)
Wingspan: 16.5-20.1 in (42-51 cm)
Habitat
You can find the Flickers in open habitats such as woodlands, yards, parks, edges, and near trees. You can also find them in mountain forests.
3. Pileated Woodpecker
Pileated Woodpeckers are the largest Pennsylvania woodpeckers, with their long neck and triangular crest that sweeps off the back of the head.
You can easily mistake them for an American crow because of their size.
Color Pattern
Most Pileated Woodpeckers are black-colored, with white stripes on the face and neck. You can see their white underwings when flying, with small white crescents on the upper side. You can also spot their flaming-red crest. The male adults have a red bar on the cheeks, which is absent in the female species.
Behavioral Pattern
Pileated Woodpeckers are regarded as loud birds because of their whinnying calls. They drum on dead trees in a deep rolling pattern with their beaks. They are also known to drill rectangular-shaped holes in rotten woods. These holes enable them to access their meals – carpenter ants and other insects.
They fly similarly to other woodpeckers, which is a far cry from the crow's straight flight path.
Size and Shape
Pileated Woodpeckers are the most prominent and bulkiest woodpeckers.
Both Sexes
Length: 15.8-19.3 in (40-49 cm)
Weight: 8.8-12.3 oz (250-350 g)
Wingspan: 26.0-29.5 in (66-75 cm)
Habitat
Pileated Woodpeckers make the forest their home. They are often regarded as forest birds. These forests can be evergreen, deciduous, or mixed. In the West, these forests are often old, while they live in young forests in the east.
4. Red Bellied Woodpecker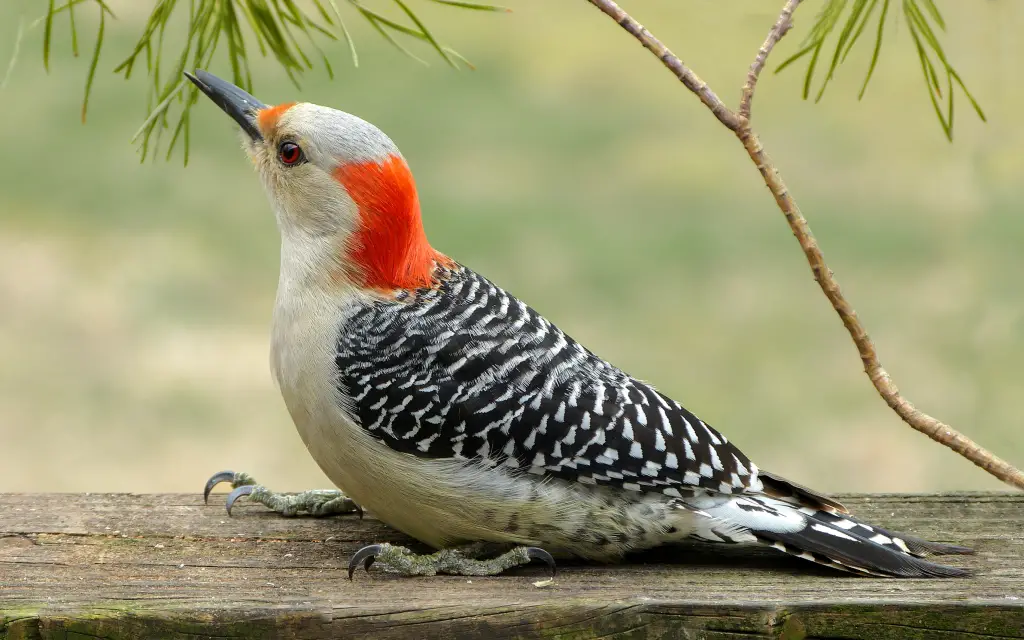 These woodpeckers are medium-sized with round heads. They are similar in size to the hairy woodpeckers but both have a distinctive plumage.
Color Pattern
Red-Bellied Woodpeckers are mostly pale all around, which contradicts the name.
However, their back is striped boldly with the colors black and white. They have flashing red caps and nape, and white patches near the wingtips. You can observe this while they're in flight.
Behavioral Pattern
Instead, they would hitch along branches and trunks of medium to large trees while picking at the bark surface, then drilling into it. They also have the characteristic undulating flight pattern similar to other woodpeckers.
Size and Shape
Red-Bellied Woodpeckers are relatively one-third of the Northern Flicker. The males and females are similar in size.
Both Sexes
Length: 9.4 in (24 cm)
Weight: 2.0-3.2 oz (56-91 g)
Wingspan: 13.0-16.5 in (33-42 cm)
Habitat
You can easily find a red-bellied woodpecker in places like woodlands and forests. Sometimes, you can find them in your garden feeders.
5. Hairy Woodpecker
Hairy Woodpeckers are classified as medium-sized woodpeckers with square heads. The head and Bill are almost the same length. Their bills are long, straight, and chisel-like.
Color Pattern
They have contrasting black and white colors. On the black wings, you will find white spots. The head has two white stripes, although, on the male species, there is a red stripe along the back of the head. On the center of the black back of the bird, you will spot a white patch.
Behavioral Pattern
On tree trunks and branches, hairy woodpeckers are mainly hitched there. They also feed at the bases of trees, along with fallen logs, and even on the ground at times. Similar to other woodpeckers, they fly in an up-and-down pattern.
Size and Shape
Both Sexes
Length: 7.1-10.2 in (18-26 cm)
Weight: 1.4-3.4 oz (40-95 g)
Wingspan: 13.0-16.1 in (33-41 cm)
Habitat
Hairy woodpeckers can be found in mature forests. You can also find them in woodlots, suburbs, parks, forest edges, freshly burnt forests, and open woodlands.
6. Downy Woodpecker
Downy Woodpeckers are the classical small-sized woodpeckers. They have a straight bill, broad shoulders, and blocky heads. The male species are small with short snouts.
Color Pattern
Downy Woodpeckers have a color mixture of black and white. The upper part, colored black, is checkered with white on the wings. At the center of their backs, you will spot a white stripe. The tail feathers are white-colored with black spots. You can differentiate the male species from the female by the red patch on the back of the head.
Behavioral Pattern
They are regarded as one of the noisiest woodpeckers in PA, especially during summer and spring.
Their small size enables them to move more acrobatically than larger woodpeckers. They hitch around tree limbs and trunks. They can also drop easily on tall weeds to feed on galls.
Size and Shape
These small-sized woodpeckers are relatively two-thirds the size of Hairy woodpeckers.
Both Sexes
Length: 5.5-6.7 in (14-17 cm)
Weight: 0.7-1.0 oz (21-28 g)
Wingspan: 9.8-11.8 in (25-30 cm)
Habitat
Downy Woodpeckers are found in open woodlands, particularly among deciduous trees and brushy or weedy edges. You can also find them around your home vicinity, especially if you have a garden.
7. Yellow-Bellied Sapsucker
Yellow-Bellied Sapsuckers are relatively small in size. They have stout bills, long wings, and pointed tails. Sapsuckers hold their crown feathers up to form a peak at the back of the head.
Color Pattern
They are mostly black and white. Their faces are boldly patterned, and they have whitish or yellowish underparts. Both male and female species have a red colored forehead, which extend to the throats for the male only. Towards the black chest shield is a black and white stripe that curves from the face.
Behavioral Pattern
Yellow-bellied Sapsuckers are known to feed at sap wells, lapping up the sugary sap alongside any insect stuck there. They also perch upright on trees and make a 'mew' calling sound. If you happen across neatly spaced holes drilled into trees anytime you walk around your neighborhood; you might be close to a Yellow-bellied Sapsucker.
Size and Shape
They're relatively bigger than Downy woodpeckers. However, they are smaller than Hairy woodpeckers.
Both Sexes
Length: 7.1-8.7 in (18-22 cm)
Weight: 1.5-1.9 oz (43-55 g)
Wingspan: 13.4-15.8 in (34-40 cm)
Habitat
Yellow-Bellied Sapsuckers are found in hardwood and conifer forests with high elevations. They can also visit a bird feeder for suet.
---
How to Attract Woodpeckers to Your Gardens
Occasionally, you can find a woodpecker looking for its next meal in your garden. However, it's usually challenging to attract one, especially if you love woodpeckers and would love to see them for a closer look. Fortunately, you can attract multiple woodpeckers to your garden with the right tips:
a. Don't Cut Down Dead Trees
Woodpeckers are attracted to dead trees because it's easy to bore holes in them and eat trapped insects. Thus, having dead trees in your yard will surely attract a woodpecker.
b. Offer Suet Treats
Woodpeckers eat suets. Therefore, having a suet feeder filled with other foods like nuts, sunflower seeds, berries, and acorns would lure in a woodpecker.
c. Provide Constant Water Supply
Birds need water, and woodpeckers are no different. Providing a constant water supply will go a long way in attracting a woodpecker. You can use a water mover, or solar fountain, or opt for a natural and isolated water source.
d. Build Nest Boxes
A nest box can be hung to attract a woodpecker in replacement for dead trees. Nest boxes of about 3 to 6 meters high are suitable.
e. Grow Trees and Plants That Bear Native Fruits
Woodpeckers also indulge in fruits and berries as their meals. Therefore, growing plants and trees such as tupelo, strawberries, cherries, grapes, mulberries, blueberries, apples, etc., can help you tempt a woodpecker to your garden or yard.
Irrespective of the fact you love to attract a woodpecker to your yard, ensure you prevent them from drumming or drilling holes into your wooden surfaces with their beaks. You can do this by covering such an area with wire mesh.
Roaming Tip: Could woodpeckers compare to our next show bird? Find out in our article — Hawks In California.
---
Watch This!
---
Frequently Asked Questions
Do Woodpeckers Live in Pennsylvania?
Woodpeckers are commonly seen in PA, depending on the season. All types of woodpeckers, excluding the Yellow-bellied Sapsuckers, are found all year round in Pennsylvania. During summer, the Northern Flickers are more commonly seen. However, you're most likely to spot Downy woodpeckers more in winter.
What Kind of Woodpeckers Are in Pennsylvania?
There are seven species of woodpeckers native to Pennsylvania. These species include the Red-Bellied Woodpeckers, Northern flicker, Downy Woodpeckers, Pileated Woodpeckers, Hairy Woodpeckers, Yellow-bellied Sapsuckers, Red-Headed Woodpeckers.
However, some claim to have spotted another species known as the Black-backed Woodpecker. This particular species is found majorly in the north of Pennsylvania, and it isn't easy to spot. This is attributed to its small size and black color.
What is the Largest Woodpecker in Pennsylvania?
Pileated Woodpeckers are regarded as the largest Pennsylvania woodpeckers. With the adult woodpecker having a length of 16 to 19 in, a span of 26 to 30 in, and an average weight of 277 grams, Pileated Woodpecker easily outweighs the others as the giant woodpecker found in PA.
Fun Fact: Downy Woodpeckers are considered the smallest woodpeckers in Pennsylvania.
---
Conclusion
Woodpecker watching can be pretty thrilling. These birds have characteristic behaviors that leave you in awe.
You can visit the parks, forest trailing, or hiking, and you might see thousands of woodpeckers flying in that undulating pattern. Or you can simply attract them to your garden with the tips you learned above.
However, which Pennsylvania woodpecker species have you seen and where? And if you haven't seen any, I guess it's time you start observing for them.